Ram Board: Heavy-duty floor protection
The construction site long-term armored under rough conditions
Ram Board is a heavy-duty, temporary floor protection engineered for contractors. Designed with cost and efficiency in mind.
Starting strong with Ram Board
Builders start strong with Ram Board. With Ram Board on the floor, the construction site is armored. For as long as it takes. Days, weeks, months! Ram Board is extra strong and even protects against a constant water load for longer periods of time. Is your Ram Board dry again afterwards? Then your floor protection is back to full strength. As if nothing has happened.
Durable
Ram Board is the durable powerforce on the construction site. Durable, because Ram Board is made of recycled cardboard with a super strong structure. Holds everything, without grumbling. Debris, aerial work platforms, bricks, water, paint? Let it fall. Because with Ram Board, the floor can not be broken.
Up against the wall
Have you ever experienced cement or paint splashing against the wall? Or someone scraping along the plaster wall with a wheelbarrow or toolbox? The clever brains at Ram Board in America have come up with something: Wall Guard. This allows you to easily fold an edge to your Ram Board after installation. You can choose yourself the desired height of the folded edge. Go for it, spill all you want!
---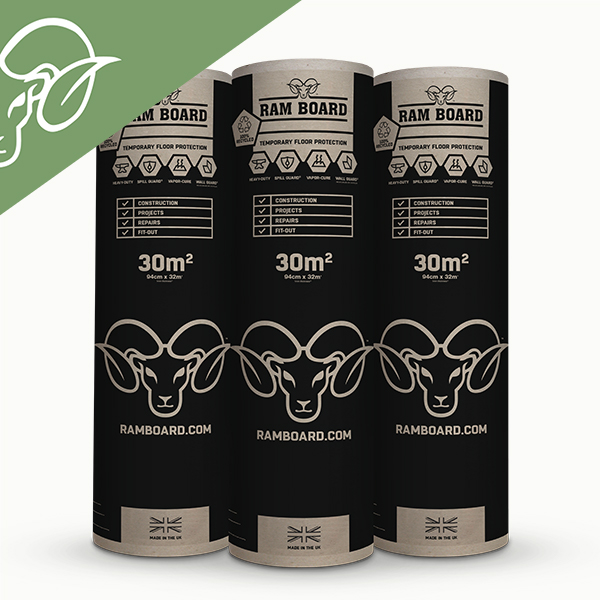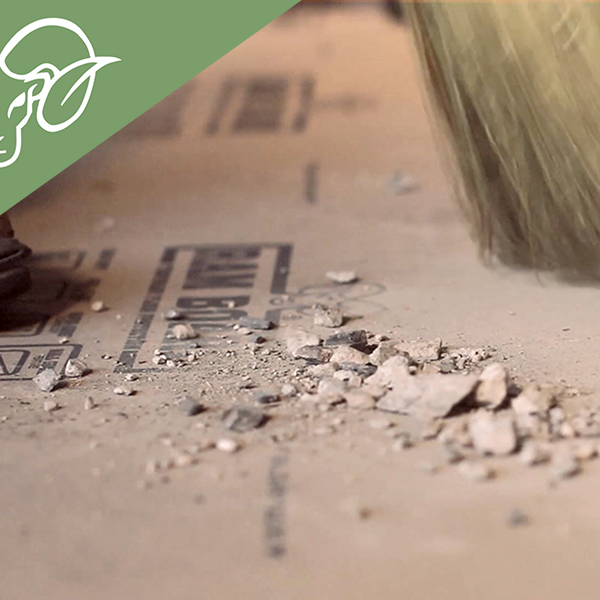 RAM BOARD
The durable floor protection for the construction site
Ram Board floor protection for the construction site. Extra strong, extra durable. Protects against the toughest conditions. Suitable for all floors, even new ones. Ram Board is breathable, so while the floor is armored, the surface can continue to dry.
Features:
Heavy-duty floor protection
Made from recycled cardboard
Lays out fast
Exclusive Wall Guard Feature
Exclusive Vapor-Cure Technology
Flex-Fiber Technology
Spill Guard Technology
Recycled / Recyclable
FSC Certified
SIZE: 94cm x 32m
ARTICLE #: 900641
QTY: 22 rolls / pallet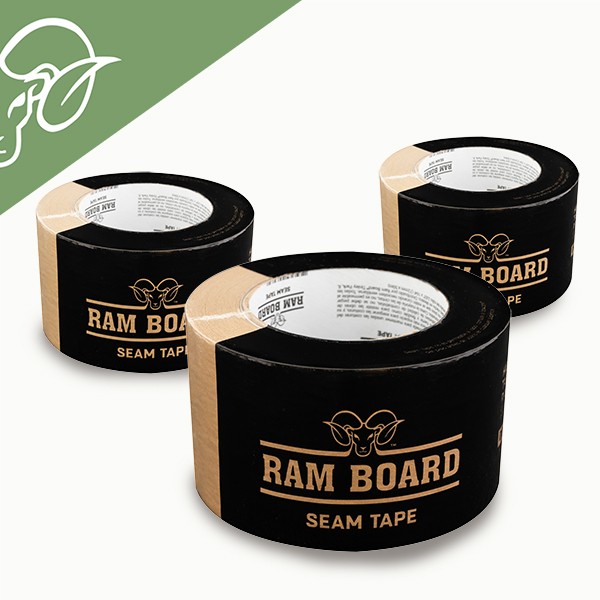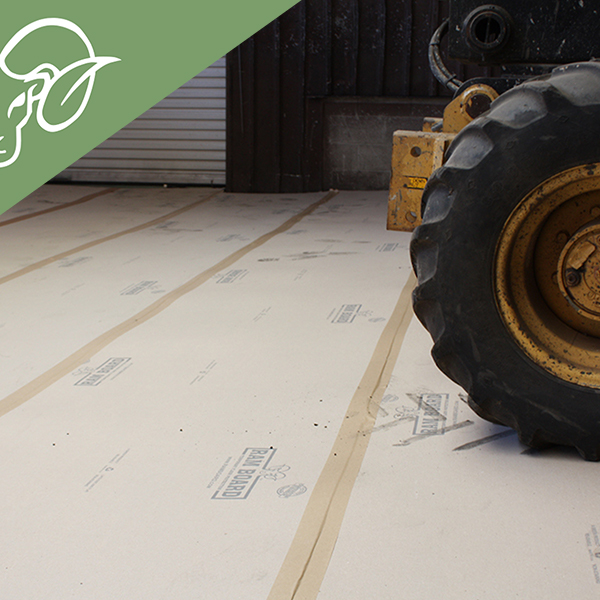 RAM BOARD SEAM TAPE
Heavy-duty duct tape
Seam Tape is designed to hold Ram Board seams together. It's 7.2 cm width gives more of an allowance to cover Ram Board seams. The seam tape kraft backing makes it easy to tear off and apply. Because of ist contractor grad adhesive, Seam Tape should not be taped directly to finished floors and surfaces.
Features:
7.2 cm easily covers Ram Board seams
Heavy-duty Strength
Contractor grade adhesive, durable
Made from recycled paper
Easy to use
100% recyclable
SIZE: 72mm x 50m
ARTICLE #: 900643
QTY: 16 rolls / box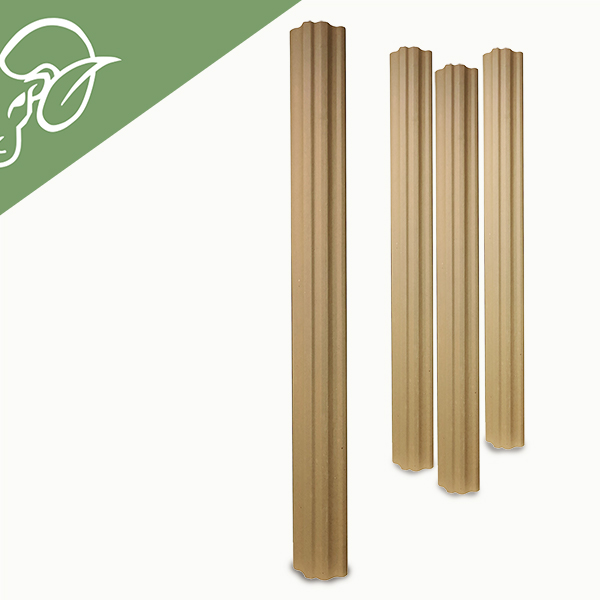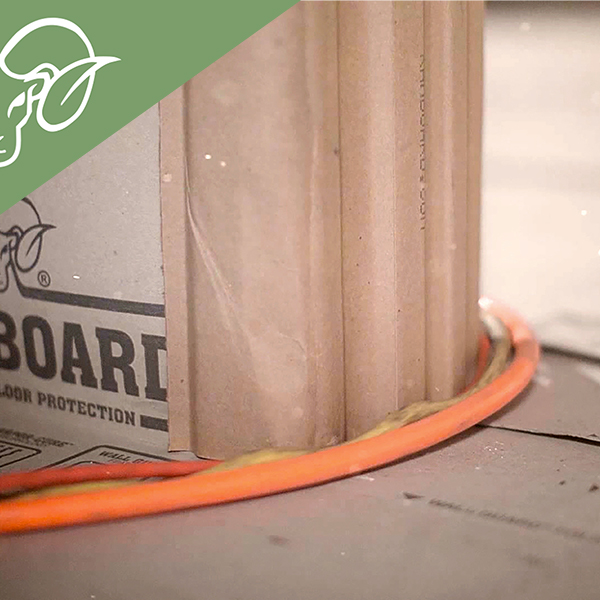 RAM BOARD RAM JAMB
Heavy-duty door jamb protection
Ram Board Ram Jamb is heavy-duty, flexible and re-usable. With no tape or adhesive necessary, Ram Board's Door Jamp Protectors install in seconds.
Features:
Quick & easy to install
One size fits 10 to 23 cm door jamb widths
Reusable
SIZE: 150cm
ARTICLE #: 900646
QTY: 50 units / box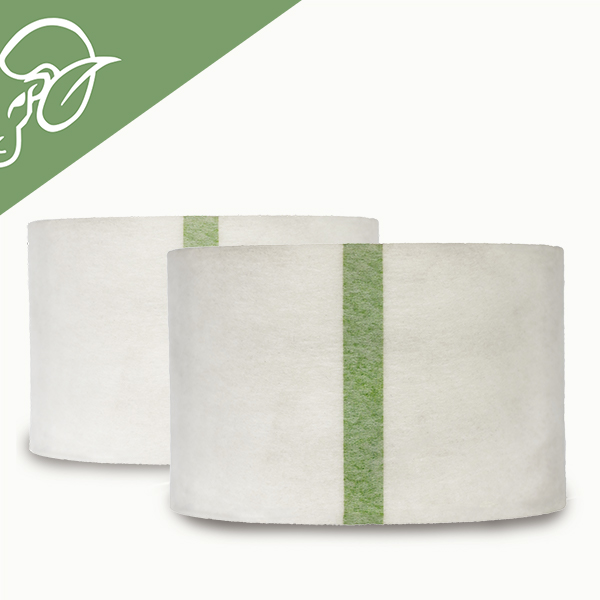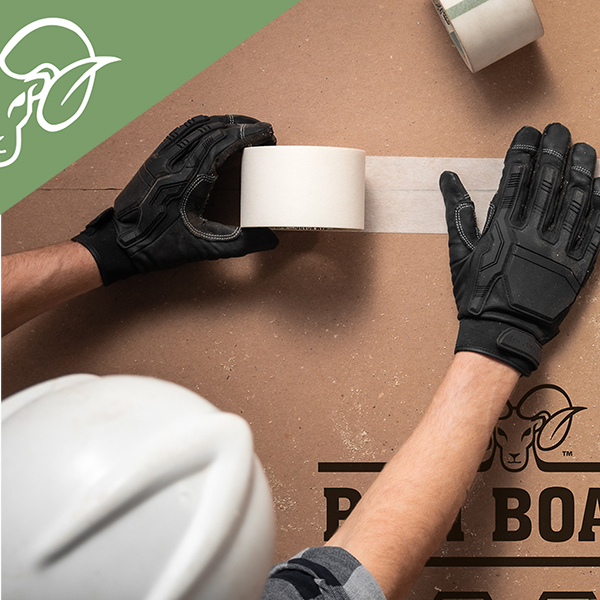 RAM BOARD VAPOR-CURE TAPE
Breathable seaming tape
Ram Board Vapor-Cure Tape is engineered with our exclusive Vapor-Cure technology. When used to join Ram Board seams, it prevents cure lines and promotes even finishes in curing floors.
Features:
Vapor-Cure – breathable, suitable for new floors
Prevents blotchy finishes in curing floors
7.2 cm easily covers Ram Board seams
Lays out fast
SIZE: 72mm x 33m
ARTICLE #: 900644
QTY: 16 rolls / box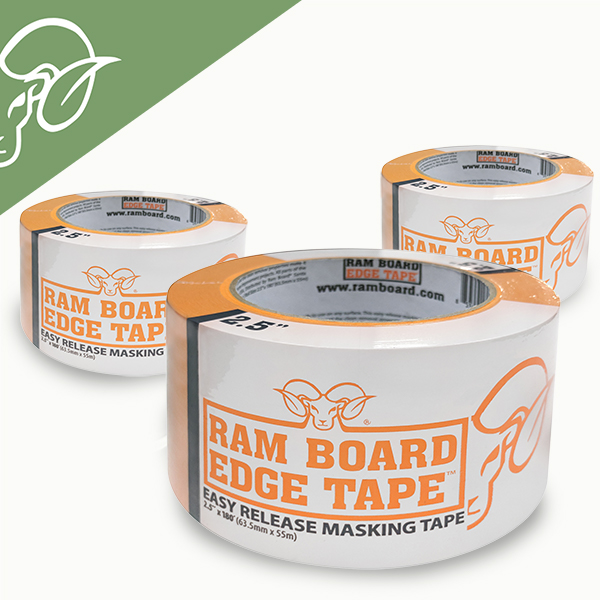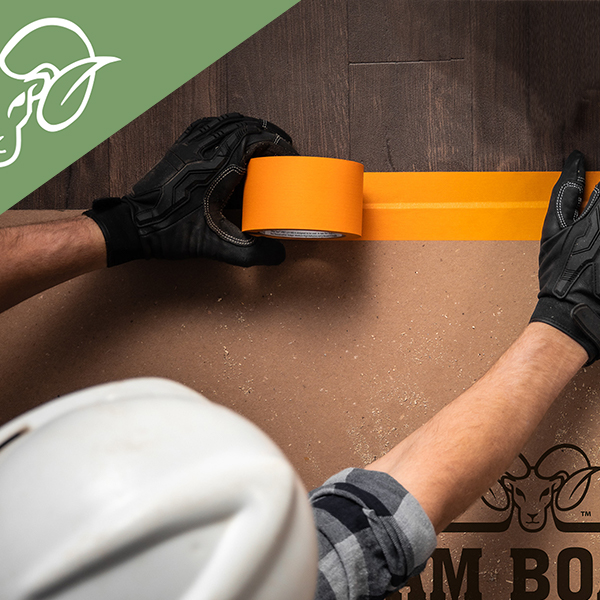 RAM BOARD EDGE TAPE
Easy-release masking tape
Edge Tape bonds the edges of Ram Board floor protection to the surface. The specially developed adhesive layer ensures a reliable bond. Edge Tape can be removed within 14 days without leaving residue.
Features:
6.3 cm width for easy installation
Bonds tightly to Ram Board
Secure bonding on hard surfaces
De fel oranje kleur zorgt voor een duidelijke markeSafety orange identifies edges of flooring
SIZE: 63mm x 55m
ARTICLE #: 900648
QTY: 16 rolls / box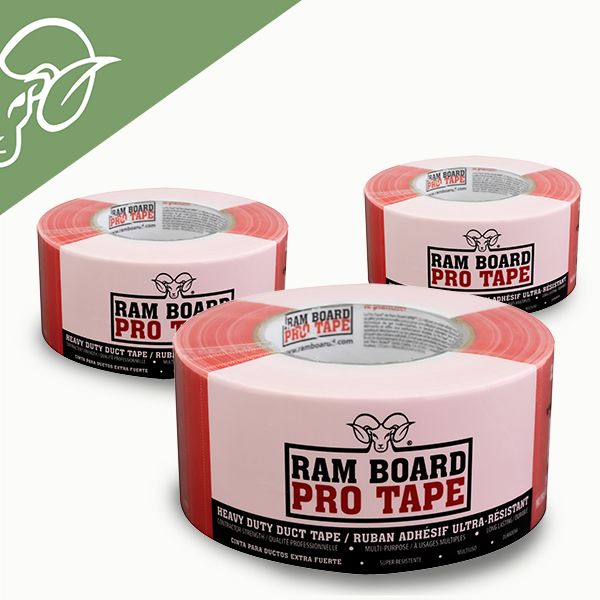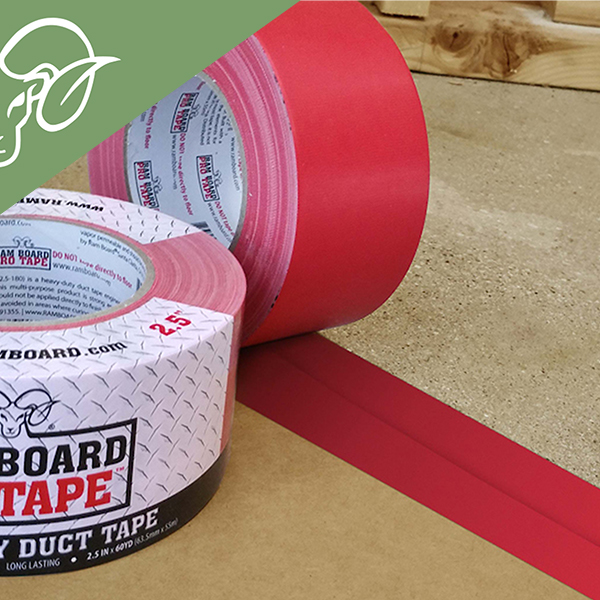 RAM BOARD PRO TAPE
Heavy-duty duct tape
Pro Tape's Scrim Fiber System takes duct tape to the next level. This multi-stage coating creates a stronger bond between layers, which also provides cleaner removal during projects.
Do not tape directly to floor
Features:
Heavy-duty
Superior strength
Multi-purpose
Long-lasting durability
Scrim Fiber System
Cleaner tearing and cleaner removal
SIZE: 63mm x 55m
ARTICLE #: 900645
QTY: 20 rolls / box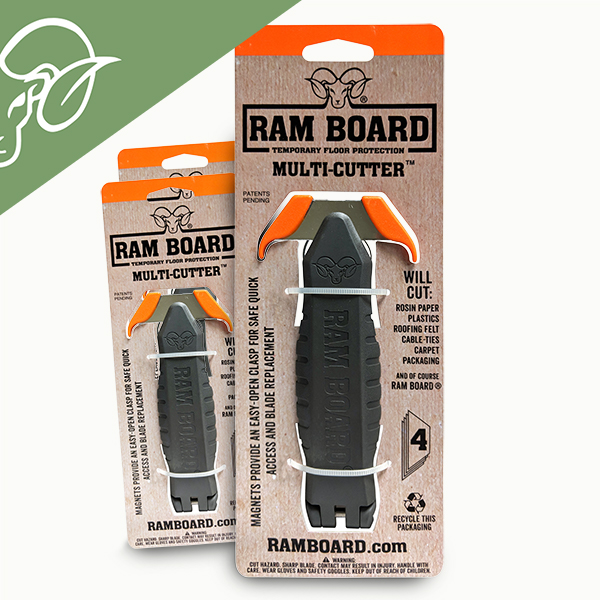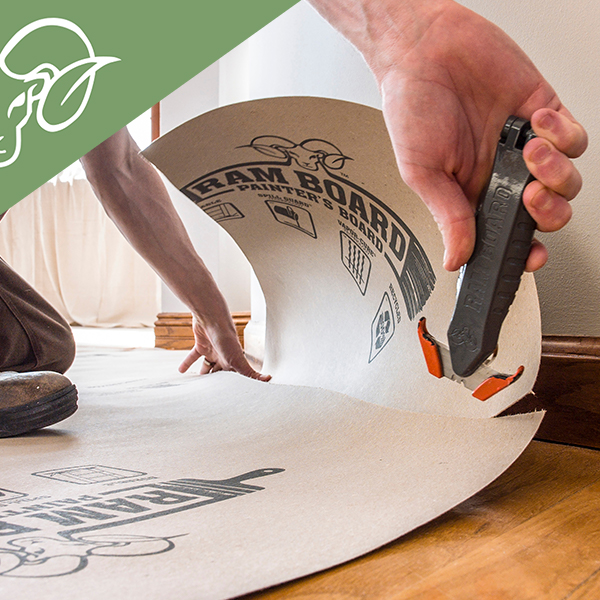 RAM BOARD MULTI-CUTTER
Specialized utility knife
Cut directly on your finished surface without the risk of damage. The dual edge guard system protects both sides of the razor leaving all surface scratch and scuff free.
Features:
Protects flooring from damage while cutting directly on the finished surface
Allows for quicker cuts
Exclusive dual edge guard system
Ergonomic handle & grip
Finger guards protect from accidental
Each cutter comes with 4 blades
Easy access to blade storage
ARTICLE #: 900642
QTY: 12 multi-cutters / box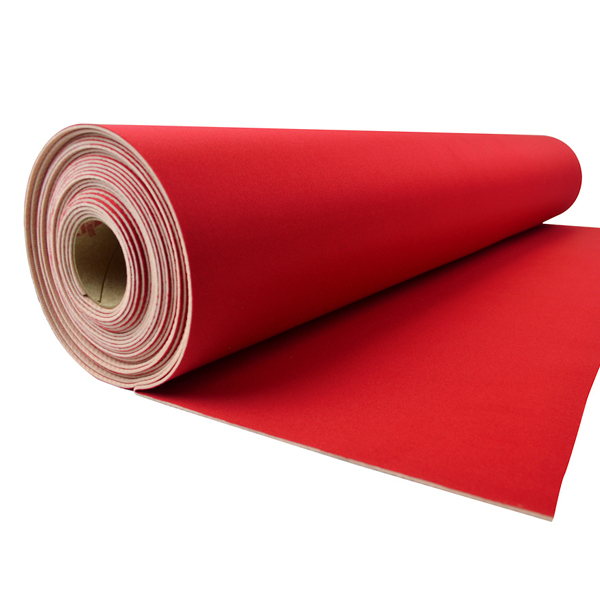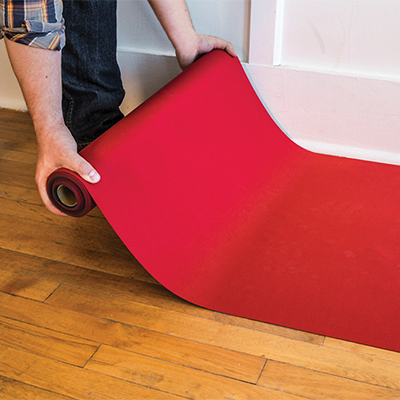 NEO SHIELD NEOPRENE RUNNER
Reusable anti-slip protector for all surfaces
Neo Shield is the ultimate reusable surface protector that rolls out flat, clinging to floors and steps with a non-adhesive, slip resistant backing. Keep your floors and counters safe from damage and debris during remodeling projects, appliance installation and moving. Use Neo Shield to place tools and other items on in order to keep them clean and your surfaces protected.
Features:
Heavy-duty : suitable for rough conditions
Protects hardwood, ceramic tile, linoleum and carpet surfaces
Slip-resistant and clings to steps
Lightweight – rolls are easy to install and carry from site to site
Can be used on both sides
Reusable
SIZE: 68cm x 6,1m
ARTICLE #: 900650
QTY: a piece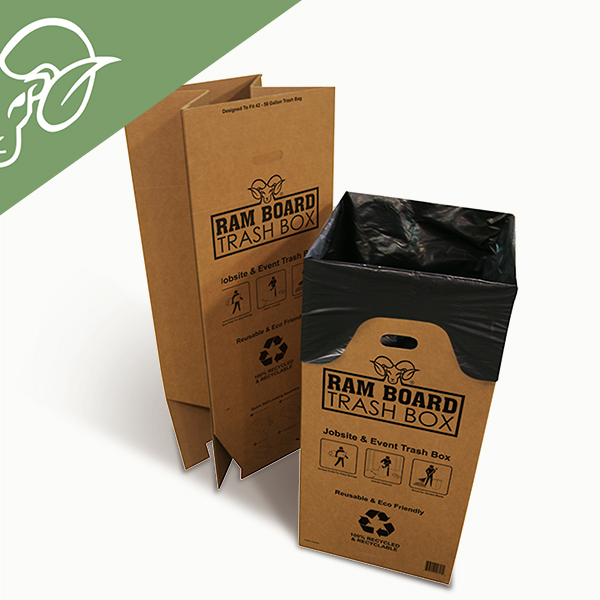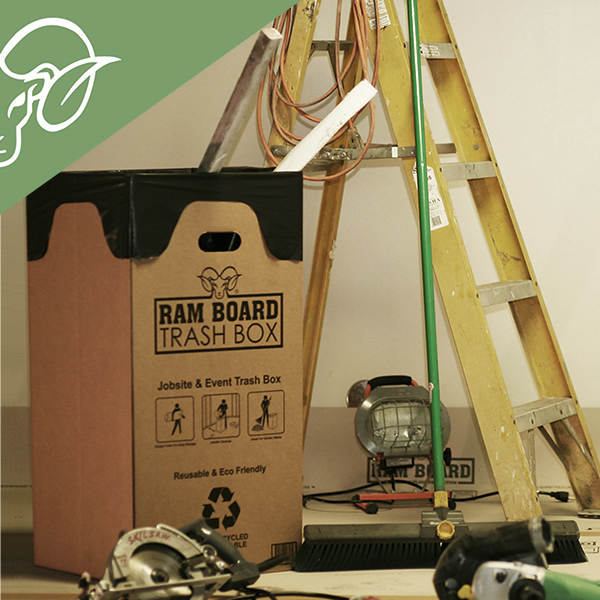 RAM BOARD TRASH BOX
Recyclable, portable jobsite trash container
Keep your construction site tidy and organized. Trash can be cleaned up quick and easy with the Ram Board Trash Box. The durable, green solution for collecting garbage and waste. Suitable for all common trash bags. Unfold – insert garbage bag – done! Easy to carry from site to site. After using, simply fold the Trash Box and take it to your next construction project. Cleaning up debris at restoration sites has never been easier.
Features:
Fits 160 to 190 Liter trash bags
Ready to use super fast
Unique folds for easy storage
Quick self-locking assemly, no tape required
Great for waste on any disaster site
100% Recycled / Recyclable
SIZE: 42cm x 42cm x 86cm
ARTICLE #: 900647
QTY: 20 pieces / box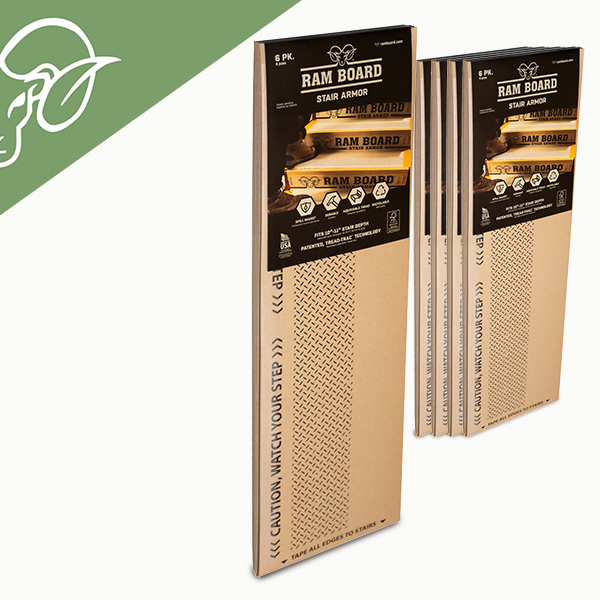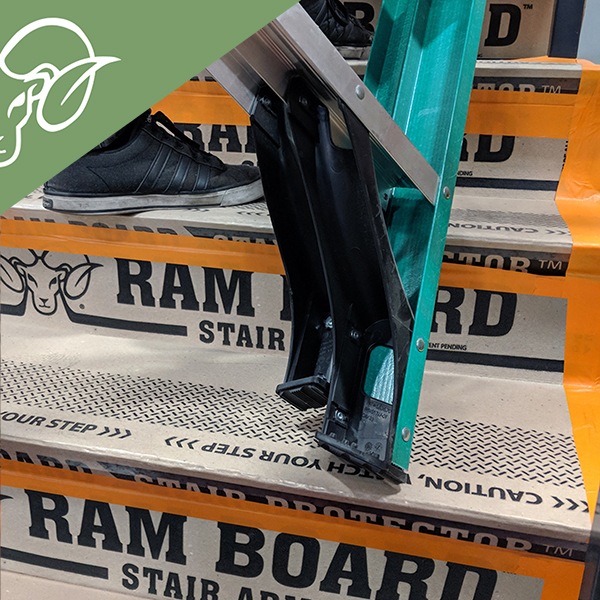 RAM BOARD STAIR ARMOR
Durable, temporary stair protection
Ram Board Stair Armor beschermt traptreden. Deze sterke herbruikbare Ram Board Stair Armor protects staircases. This strong reusable stair protector is made from reinforced recycled cardboard and fits always.
Features:
Reinforced bull nose guard
Adjustable tread
Made from recycled materials
Spill Guard technology
Reusable and recyclable
SIZE: 86cm x 48cm
ARTICLE #: 900649
QTY: 6 pieces / set
---
Ram Board is a registered trademark – American Concept. Made in Europe.